Welcome to Animas and Campus Life
Welcome to Campus Life
"It is not enough to love the children, it is necessary that they are aware they are loved." -St. Don Bosco
Don Bosco saw the original purpose of his mission clearly: to reveal to the young people the love God has for them. We build our campus life around this theme through the implementation of the Oratory Model.
The Oratory is a place, an attitude and a method.
-it is a home where young people can feel welcome, safe and peaceful.
-it is a school where life skills are learned
-it is a church, a place of prayer and spiritual development
-it is a playground where fun and joy celebrate life.
Don Bosco chose as the motto for the Salesian Congregation, Da Mihi Animas, translated meaning, Give Me Souls, Take away the Rest. His quest was to connect to the hearts of the young people and to feed their souls. As the young people found love in God they found their personal gifts and calling. As the young people discovered themselves Bosco would call on them to in-turn mentor the other youth. Bosco taught we are here to help people, help each other. We are here to seek those who are removed or lost and lead them to Christ. This is the role of our Animas Leadership Program.
All members of the St. Francis Community are encouraged and expected to engage and to serve as the heart and soul of our school community. However, to help plan, facilitate and delegate events we have the Animas Leadership Program. Animas is comprised of six different committees; Liturgy, Dance, Retreats, Assembly, Spirit, and Service.
The Animas committees are responsible for animating our campus and to reaching out to help people and to lead all to Christ.
"Animas is the living, breathing, and thriving student leadership organization on campus. As a student-run organization, it aims to create a unique and memorable experience for each student at St. Francis by planning campus events such as dances, rallies, retreats, and liturgies. As a faith-based leadership body, we strive to foster a celebratory campus environment in which each member of the St. Francis community can illuminate his or her faith journey. The members of Animas also serve as a liaison between faculty and students ensuring that the student voice is always heard. Following in St. John Bosco's footsteps, we aspire to create a loving school, church, playground, and home here on the shores of Kelly Lake."
By Lauren Price, Class of 2013.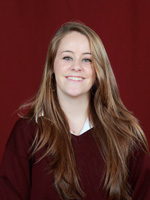 Lauren Price
Class of 2013

Welcome to Animas and Campus Life