Principal's Welcome
Dear St. Francis Families and Friends,
It's my privilege to welcome each of you to the 2018-2019 St. Francis High School – Salesian College Preparatory website. I am very excited to continue my journey as the President and Principal of one of the top tiered private, Catholic high schools in the state. I have spent 33 years in Salesian education, providing me with a profound understanding of the responsibility that our faculty, coaches, and staff have in shaping young women and men to become successful adults equipped with a strong set of Christian values and the moral fortitude to be leading global citizens.
Our great school is named after St. Francis of Assisi, but our spirit and passion comes from our patron, St. John Bosco. The story of St. John Bosco and his mission is inspiring. It captures the essence of our vision:
To ensure every student is prepared to attend a 4-year college and possesses the values of a good Christian and an honest global citizen.
St. John Bosco's revolutionary educational leadership in 19th century Italy led to sweeping educational reform and has become the cornerstone and vernacular for most contemporary schools – whether they are public, charter, private, or diocesan. This educational philosophy is as relevant today as it was in Turin 160 years ago.
Since 2001, the partnership between the Diocese of Monterey, Salesian priests and brothers who follow the model of St. John Bosco, and our community of parents has empowered young women and men to be successful. They find success in the classroom, on the court and field, and in the community as each student and staff member continues to demonstrate servant leadership. Students graduate from St. Francis, a Salesian college preparatory high school, as confident and dynamic young women and men of character who are ready to lead, serve, and inspire.
As evidence of that readiness, we want to share with you the following noteworthy accomplishments from the last 4 years:
Students annually test well above average on the PSAT and SAT exams. Our four-year SAT scores are 34 points higher than the local and national average.
Students annually test well above average on the Advanced Placement and National Latin exams. Our four-year AP score history averages 11-45% higher pass percentages than the local and national average. In the last four years Calculus BC, English Language, Studio Art, Spanish Language, and English Literature have all celebrated a 100% pass rate one or more times.
Annually we recognize at least 2 National Merit Commended Scholars, Semi-Finalists, Finalists, and/or National Hispanic Merit Commended Scholars.
100% of our AP Spanish Language, AP English Literature, AP Calculus, and AP Biology students, are recognized in their respective National Honor Societies.
The junior and senior classes recognize 46% membership in the California Scholarship Federation and 38% are members of the National Honor Society.
85% of our student population participates in sports, the arts, or both.
22% of our students participate in the Project Lead the Way Biomedical Science Pathway.
26% of our students have a 4.0 or better in a rigorous college preparatory curriculum that includes Honors, Advanced Placement, and online classes.
99.5% of our graduates attend college, and 100% of our students who apply to college are accepted into a college of their choice.
100% of our students meet and/or exceed our service hours project.
St. Francis offers a comprehensive high school experience that is also an intensely personal one. Our teacher to student ratio is 12:1 with an average class size of 20.5. We are also proud to offer a very high level of personal, academic, and college/career counseling. Ms. Haydee Lemus focuses all of her counseling attention on the 9th grade and Ms. Patricia Gutierrez is the Head Counselor and focuses her attention on the 10th-12th grade students. This means that your student receives comprehensive support for success inside and outside of the classroom as well as the personal attention to pick appropriate majors, colleges, and scholarships. Last year the Class of 2018 earned $7.1 million in college academic and athletic scholarships! This number is unmatched by schools with 400+ in the senior class, and last year's Class of 2018 had 60 students.
Within this framework we are committed to prepare students for the dynamic challenges of an ever-changing world. Now more than ever, students need to master not only subject knowledge but also master 21st century skills like critical thinking, creation, collaboration, and oral/written communication. Our highly qualified, expert staff mentors each young person to master the rigors of class as well as build the confidence he or she needs to be a leader in the community.
As part of our vision we continue to grow programs, services, and the student population. We have done this by delivering on our promise: we foster excellence in academics, athletics, arts, service, leadership, and faith development. As a result, we now proudly serve students from four local counties in California, two dioceses, as well as countries outside of the US – China, Brazil, and Mexico this year alone. It is our vision to slowly grow the local number of students attending as well as expand our services to students from outside the US. Being so close to Silicone Valley and the international city of San Francisco, it is our plan to mentor global citizens who demonstrate good Christian values.
Secondly, our mission and vision focuses our attention on program and service expansion to meet individual student needs. The school allows students to take 7 classes each semester, and we educate using the 4x4 rotating block schedule. This allows our teachers and students to investigate, research, create, and produce better than any surrounding school. All of our students use iPads and all of us have committed to printing 10% less paper products than last year. We are getting greener each year. Since the introduction of blended learning – online learning done on campus, managed by our staff, with peer and teacher tutoring – we now offer more Advanced Placement, honors, and elective choices in math, social studies, science, modern language, and the visual arts. The school has had recent success in athletics due to a commitment to hire teachers/staff who are program coaches as well as the expansion of our strength and conditioning program for all athletes in an effort to promote good health, safety, nutrition, and injury rehabilitation.
Finally, we continue to expand our robust tuition assistance program and our facilities. Over the last four years we have grown the tuition assistance dollars by 95.2% - we've added more scholarships and need-based assistance to a high of $700,000. This affords more local students opportunities to attend an excellent institution like St. Francis. Currently we offer extensive need-based and merit-based tuition assistance. Besides enhancing our tuition assistance, we have completed classroom renovations with more access points and Apple TV's in each classroom to facilitate real-time, always on learning. This summer we added Apple TV's and short throw projectors. We converted 2 more classrooms to energy efficient LED lighting, enhanced in/outside WIFI throughout campus, and re-surfaced the playground basketball courts to add new slurry, new lines, new nets, and basketball/volleyball/badminton courts.
Our 2018-2019 school wide theme is, "Our Story, Our Journey!" This theme is an extension of last year's theme – I am St. Francis. Now we are focusing on every student, parent, alumnus, and staff member as an integral part of each student's story as well as their journey through life, and that it takes all of us to affect positive change in our world.
As part of our story and journey, St. Francis has been quietly working on a capital campaign – the VISION campaign. I am excited to provide you with an update on our VISION Capital Campaign to add a Counseling Center/Administration Building as well as renovate the Stadium with turf, bleachers, and lines for football/soccer/women's lacrosse. Through this capital campaign, we will maintain, modernize, and expand our buildings, sports facilities and services to meet the needs of our educational community.
To date we have collected money and pledges in the amount of $3,900,000 for the $4,800,000 capital project. Approximately 60 donors/foundations have joined this effort to build our new facilities. We are gratified for the very generous support already shown. Thank you to everyone who has pledged or given to see the Counseling Center/Administration building and field renovation get completed.
As I finish this welcome letter, let us not forget the message of Pope Francis: "Dear Young People, do not bury your talents – the gifts God has given you! Do not be afraid to dream of great things!" We are here to nurture big dreams in all of the young people that we serve; and as mentors and Salesian educators to the young, we are here to help them support each other and our communities as servant leaders with influence. #SF_DreamBigger. Our vision is coming to fruition as we continue to fulfill the mission of St. John Bosco.
There is something truly extraordinary about St. Francis High School, and each member of our community has played an integral role in our growth and our students' success. As the leader of our St. Francis High School family, I look forward to building a strong relationship with you so that we may continue to provide young women and men with the necessary formation to be captains of industry, champions of social justice, innovative design thinkers, and ethical leaders in our local and global communities.
God bless, and Go SHARKS!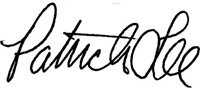 Patrick Lee
President-Principal