VISION Capital Campaign
BUILDING OUR FUTURE | CAPITAL CAMPAIGN UPDATE
The VISION Capital Campaign is an ambitious endeavor that calls for St. Francis to play an even greater role in our region's social and economic well-being by strengthening its academic programs and expanding its outreach, enrollment, and scholarships. The Corporate Members Board has approved this capital campaign, including the Athletic Excellence Facility and the Academic Excellence Counseling Center/Administration Building. These projects are essential to the process of maintaining, modernizing, and expanding our buildings and services to meet the needs of our community.

To make a donation, Click Here.
OR
Mail a check payable to:
St. Francis High School (VISION Campaign in the memo)
2400 E. Lake Ave. 
Watsonville, CA 95076
For more information, please contact
Patrick Lee, President/Principal, at (831) 724-5933 or
[email protected]
Thank you for your generosity!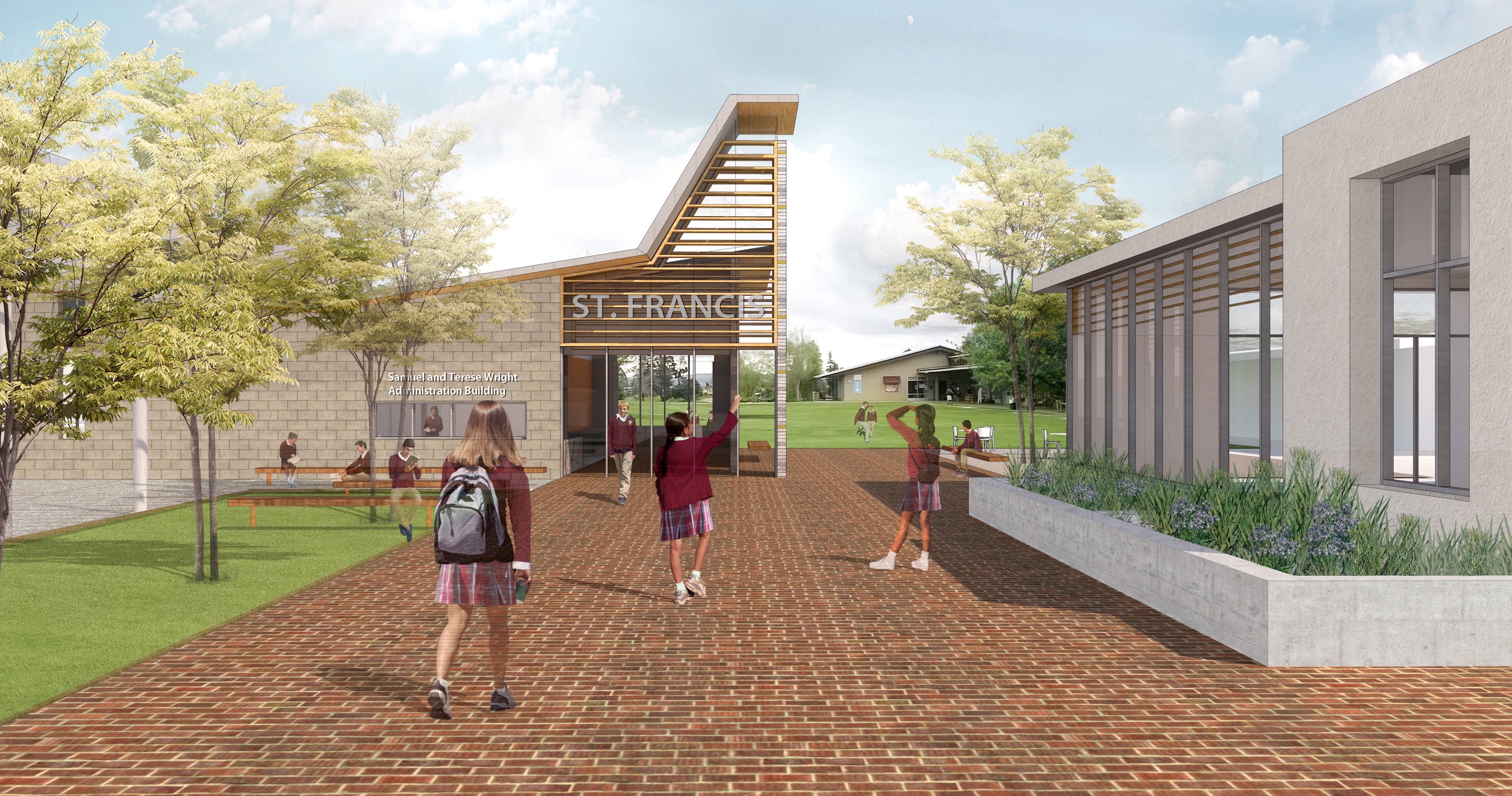 OUR STORY
St. Francis High School - Salesian College Preparatory has been the top private Catholic high school on the central coast for over 20 years. St. Francis provides students with the foundations of lifelong learning: logical and creative thinking skills, promoting awareness of social justice and peace, and cultivating a deep appreciation and respect for others. Our vision is to ensure every student is prepared to attend a university and possesses the values of a good Christian and an honest global citizen.
THE PROJECT- WHERE ARE WE NOW?
ATHLETIC EXCELLENCE FACILITY | $2.6 million
Phase 1 of the VISION Capital Campaign is underway, and construction for the Athletic Excellence Facility was completed in late spring, 2022. This facility consists of a newly turfed stadium with a natural cork infill that is used for football, soccer, and women's lacrosse. It is also used for graduation, assemblies, guest speakers, and all-school liturgies. This $2.6M project is 85% funded, and the $2.2 million raised to date have been contributed by over 115 members of
the St. Francis community. We celebrate the $164,000 that has been raised in the last 3 months, making a noteworthy dent in the funds needed to complete this project. We have stepped out in faith, but we need a final push to the end zone to secure the remaining $400,000.
THE STADIUM WILL BE USED FOR:
Facilitating Community Events and Activities
PE, Health, and Strength & Conditioning Classes
Football, Cheer, Men's/Women's Soccer, Women's Lacrosse
All-school Liturgies, Assemblies, Guest Speakers, and Rallies
Christmas Concert/La Posada (Winter) and Concert on the Green (Spring)
Baccalaureate Mass and Graduation
Alumni Events
Local feeder school events (football, soccer, and performing arts events)
NorCal Coed Youth Flag Football
Aztecas Coed Youth Soccer
PV United Recreational and Youth Soccer
YOUR IMPACT
Lead gifts for these projects in Phase 1 of the VISION Campaign have come from several generous donors committed to St. Francis' mission of preparing informed, ethical, and active leaders. Consequently, this campaign is not only about building upon the school's remarkable legacy but is also representative of the inspiring commitment to the future well-being of our broader community. Please join lead donors like Samuel & Terese Wright, the Borina Foundation, June & John Rogers, the Orradre Family, the J. Miles & Rosanne Reiter Family Foundation, Carol & Frank Saveria and 100% of our Board of Trustees and staff in helping us reach our goal, giving our students and community something to really cheer about!